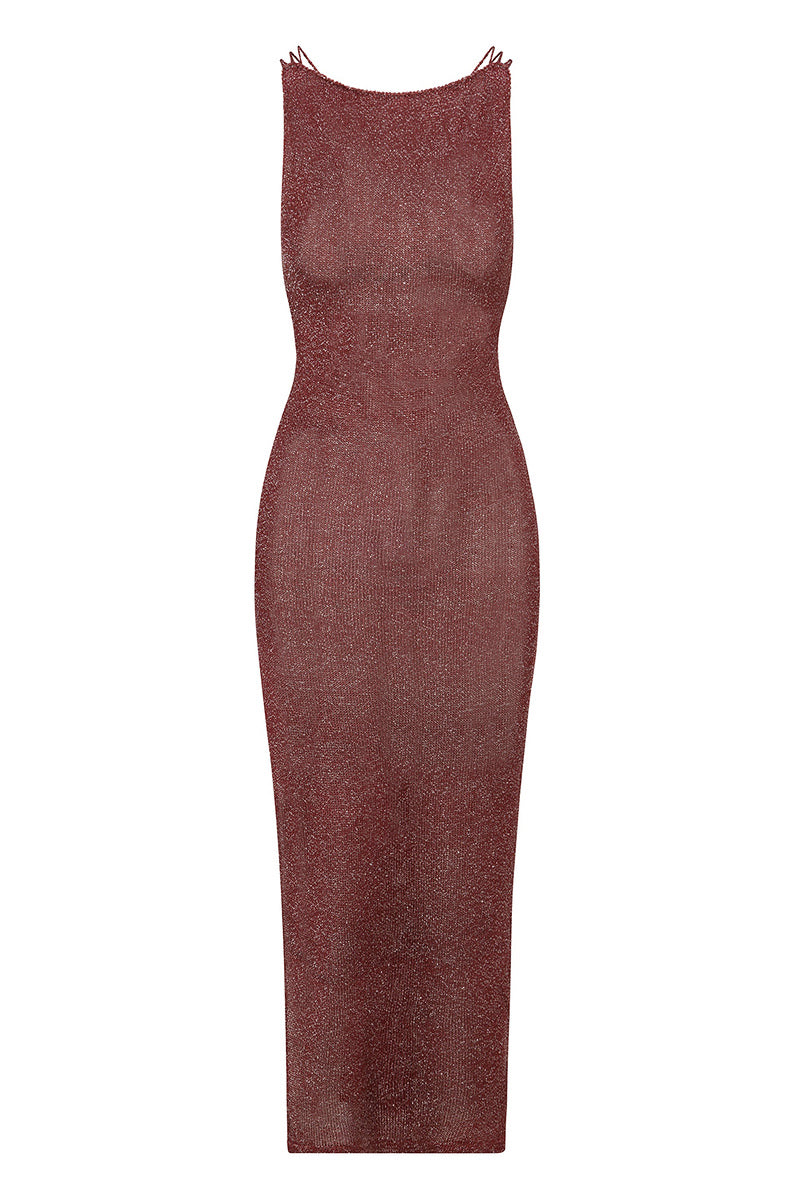 Description
Meet the SIENNA DRESS, the life of any soirée. This elegant piece is hand-knitted in Colombia, with a blend of metallic red and sparkly silver threads, and designed to turn heads with its captivating features. The dress boasts an open back detailed with six metallic straps, offering complete adjustability and a flattering silhouette. Side slits add a touch of movement, ensuring you can dance the night away.

Crafted from stretchy and luxurious fabric, the Sienna Dress prioritizes both style and comfort. Rated at 3 on the transparency scale of 1 to 5, it delicately balances modesty with a subtle suggestion of translucency, accommodating seamless pairing with underwear matching your skin tone.
In our images, we explore the versatility of this piece by styling it with a mesh turtleneck underneath. This illustrates how you can effortlessly dress it up or down, showcasing its adaptability for various occasions.
Details & Fit
DETAILS
- Hand-knitted maxi dress.
- Fitted waist.
- 6 adjustable straps.
- Open side slits.

FIT
- Figure hugging fit.
- The model is 5'7" tall and wears a size small.

TRANSPARENCY
- On the transparency scale of 1 to 5, where 1 indicates no transparency and 5 signifies complete transparency it stands at a 3; this dress suggests using pasties for the top and pairs well with underwear that matches your skin tone.
Fabrication & Care
FABRICATION
- This piece is made with high-quality metallic threads in Colombia.
- 70% Acrylic, 30% Cotton.

CARE INSTRUCTIONS
- Hand wash in cold water.
- Do not hang or wring.
- Flat dry only.